The Fundamentals: SHOO, Jimmy Choo!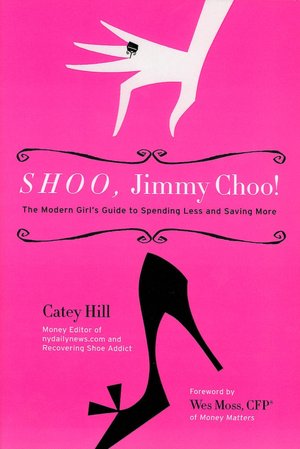 Ladies, Ladies, Ladies! Now you all know that I love shiny things and velvety things and furry things.  But more and more what I love are round things, zeros—lots and lots of zeros!  The prospect of ushering into my 30s without a lovely pot to piss in had me shaking in my Choos.  So I figured it was high time I get my bank account as robust as my closet.  
But where should I start? Who do I turn to? I starting following Maria Bartiromo but her talk of financial policies and fiscal failures ran circles around me.  Then I turned to Suze Orman but between her screaming at me and her deprivation based philosophies; I slowly moon walked away from her. 
One day while strolling the Financial Literacy aisle at Barnes & Noble I happily stumbled upon Catey Hill's 'SHOO, Jimmy Choo!'.  Now Catey was a woman who understood my plight, save money without relinquishing all the things I love to do and have.  Quickly Catey helps her readers move beyond the here & now of Ferragamo, to see the big picture of their financial futures.  She talks about paying off debt & school loans, how to create a realistic budget, recognizing what your spending triggers are, and advocates for a little plastic surgery; less plastic (esp your debit card) and more cash. 
Catey advises, "Leave your credit and debit cards at home.  Pay cash for what you need. This will keep you from spending money you don't have.  Try shelling out ten $20s for those Stuart Weitzman strappy sandals instead of using your credit card, and then see how important they are to your wardrobe."  And although I hate to carry cash around, Catey does have a point.  Direct contact with your money will definitely make you more conscious about your purchasing choices. 
Once you've risen from the ashes of your debt, Catey tackles bigger issues like buying your first home, acquiring IRAs, 401 Ks, and other investments that will significantly increase your retirement savings.
All of this powerful and life saving information can be daunting and overwhelming but Catey cleverly shrouds it in language, comparisons, and metaphors us gals can understand. "Increase the length of time between the rewards you give yourself.  If one week of work = one mani-pedi now, the make it two weeks of work = one mani-pedi.  Keep increasing the steps to a reward until your spending is under control." Voila!
On a macro scale Catey challenges money challenged readers to evaluate what they value.  What has worth? What doesn't? And Why?  Once you can honestly assess where you are and what you ultimately want, changing your behavior is a little more easier and you'll be a lot richer.